Hillcrest High School
Class Of 1969
In Memory
Sheldon Maynes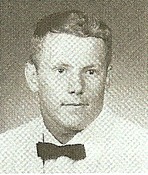 Sheldon Grant
Maynes
5/14/51 - 12/17/14
Sheldon was born in Murray, Utah to John Alexander and Jeanne Walters. He graduated from Hillcrest High
School in 1969. He played football and wrestled. He spent all of his free time hunting, fishing and growing the
largest garden on the block. His last great hunt was up the Skyline with his son and grandchildren. Despite
being on dialysis for 7 years, he never let his health get in his way of getting his trophy buck or spending time
with his family. Sheldon will be remembered for his quick wit and humor, his love of the outdoors and the love
he had for his children and grandchildren.

He married Cathy Perkins in 1983 in Salt Lake City. They had three children who were the love of his life. He
was preceded in death by his parents; John and Jeanne, his brothers; Terry and C. Keith, and his sister;
Marsha Daniels. He is survived by his children; Ben (Karen) McLaughlin, Randie (Alberto) Aguilar, and Colby
(Heidi) Maynes, and by his 8 grandchildren.

Services will be held at the LDS Chapel at 87 E. 7100 S. in Midvale on Saturday, December 20 at 11:00 a.m.
with a viewing 1 hour prior to the service. Sheldon's final resting place will be his favorite spot at the top of
Ferguson Canyon where he and his brothers grew up hunting.
Published in Salt Lake Tribune on Dec. 19, 2014
- See more at: http://www.legacy.com/obituaries/saltlaketribune/obituary.aspx?n=sheldon-maynes&pid=173517049#sthash.i4pMadqg.dpuf