Hillcrest High School
Class Of 1969
In Memory
Gabriele Michael (Casselbury)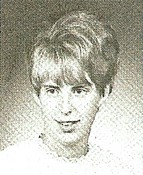 Susan Fausett Warner reports:
Deceased Classmate: Gabriele Michael
Date Deceased: 03-2003
Age at Death: 52/53
Cause of Death: Cancer
Classmate City: Boulder City
Classmate State: NV
Classmate Country: USA
Survived By: Richard Casselbury, 2 children

I became reacquainted with Gabriele when she and her husband, Richard Casselbury, moved into our ward in Boulder City, Nevada, as a result of Richard's employment. This was sometime after 1995. My husband was serving as Bishop in the ward at the time and he was called in October 1995. My husband was also their home teacher. Gabriele talked about her two children,one girl and one boy, (I don't remember their names) and her husband always. She was a loving mother and wife. She worked at an ammunition manufacturing plant located just outside the boundaries of Boulder City, Nevada. Just before my husband was released as Bishop in 2000, the ward we lived in and the two other wards in Boulder City, Nevada, were split and Gabriele and I were no longer in the same ward. It was during this period between 1995 and 2000 that I learned Gabriele had cancer. She handled it with grace and courage. I lost weekly contact with Gabriel due to the splitting of the wards and learned of her death several months after it occurred. I searched the family history website and was able to find a death date of March, 2003, in the Social Security records. I checked the local telephone directory and it appears that Richard Casselbury still resides in Boulder City, Nevada, and has a listed phone number and address.