Hillcrest High School
Class Of 1969
In Memory
Brent Hodgson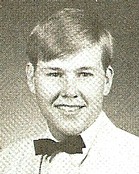 Deceased Classmate: Hodgson, Brent
Date Of Birth: 06-18-1951
Date Deceased: 06-2003
Age at Death: 52
Cause of Death: Car accident
Classmate City: Salt Lake
Classmate State: UT
Classmate Country: USA
Survived By:

1951 ~ 2003 Thomas Brent Hodgson, computer maniac, died on Sunday, June 15, 2003. He was born In Salt Lake City, Utah on June 6, 1951 to Edgar Dillworth Jr. and Roma Egan Hodgson. Brent is survived by his son, Thomas Benjamin Hodgson (his wife, Kristen Malia); his mother; two sisters, Constance Dianne Feigh, Paula Deene (Randy) Stewart; two brothers, Clifton Willard (Cyndi) Hodgson, Robert Daniel Hodgson; two stepchildren, Dana Michelle (Shawn) Roach and her daughter Taylor Cori Roach, Shawn Cory Miller. He is preceded in death by his father and two brothers, Ronald Marco Hodgson, Edgar Dilworth Hodgson III. From his obituary: Brent attended Brigham Young University prior to serving a mission in Switzerland for the LDS Church from 1971 to 1973. Upon returning, he studied at the University of Utah and Salt Lake Community College. He had great skill and understanding for computers which started in high school and continued to grow to be his life's work. His love of the great outdoors took him on many hunting, fishing and boating trips with his family. Brent was the life of the party, and these trips will never be the same without him.